Overnight train that brings the musicians to new European experience Romano Pratesi sax tenor, clarinetto basso

Riccardo Arrighini piano

Milko Ambrogini bass

Riccardo Ienna drums
1) E' oggi primavera? (Romano Pratesi)

2) Soul eyes (Mal Waldrom)

3) La cima (Romano Pratesi)

4) Misterioso (Thelonious Monk)

5) Let's cool one (Thelonious Monk)

6) We see (Thelonious Monk)

7) Beatrice (Sam Rivers)

8) Blues or not (Romano pratesi)

9) Naima (John Coltrane)
Recorded by Vincenzo Vanni at the headquarters of Siena Jazz day 1 and March 2, 2003
Mixed at the digital studio "Le Carrozze Records" in Siena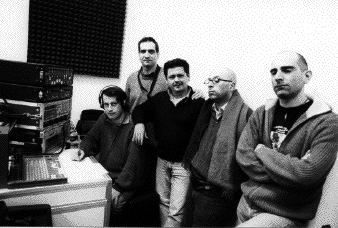 After the adventure of Euro Quartet in symbiosis with trumpeter Rasul Siddik, a native of Saint Louis (Missouri) and various collaborative notes on Paris stage (with the orchestra by Daniel Beaussier, guitarist Patrick Fradet, the drummer John Betsch and Bruno Ziarelli, vocalist Joe Lee Wilson saxophonist Bruno Wilhelm, the organist Emmanuel Bex ...), saxophonist Tuscan, who lives in the Siena countryside, is now proposing a personal project (entirely Italian) but for the richness of his musical universe, which could tap the wider public.

In the style of Romano Pratesi reflected something of the spirit of Coltrane. Not by chance one of his compositions, the most famous (Naima) closes the album of Italian saxophonist.

But Romano Pratesi experiences thus two ways in its interpretation of the work of Monk, the pleasure of playing in a group on a lively time in Wee See, and the search for a new "palette" sound through the use of bass clarinet in " diptych "Mystery / Let's Cool One ...

Strengthened by for the great "creators" of American jazz, Romano Pratesi can 'propose today alongside his own musical choices in the energy and sign the' Today Spring ', which summarizes the amalgam with the pianist Richard Arrighini, the Dancing La Cima, conducted with brio by rhythm tandem of bassist and drummer Richard Milko Ambrogini Ienna or stimulant Blues or Not ...

Fondazione Siena Jazz

Musica Reale